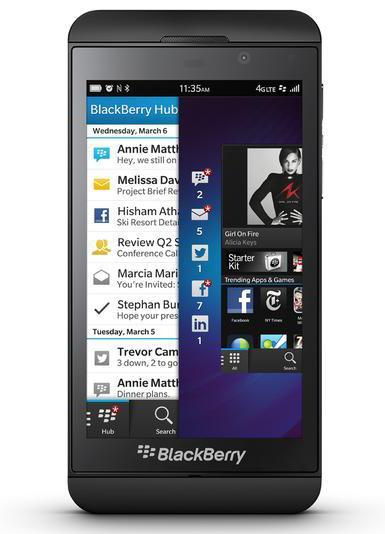 The Canadian company formerly known as RIM has changed their name to BlackBerry and released the latest version of their mobile OS known as BlackBerry 10. I have to say I have been excited for a few reasons:
1. BlackBerry is a Canadian company.
2. They signed content deals with ALL of the major holders, meaning users can get TV shows the day after they air, movies the day after they release on DVD and music galore.
3. Blackberry 10 will be able to run Android apps.
4. This is BlackBerry's first actual touch based OS. Yes you can still get phones with a keyboard, but for the ones that don't or for the tablets this new OS bring a lot to the table.
The first BlackBerry 10 phone is available now for pre-order. It's called the Z10. It has a 4.2″ screen, and 8MP camera, 16GB of internal storage, it's 4G ready and it has no keyboard. More info here.
For the keyboard lovers, the Q10 is coming soon.
For photos of BB10 go here: http://activecomputing.ca/blog/100-screenshots-of-rims-bb10-os/